Radical Hospitality: Living With Real Generosity (Public Presentation)
With S. Kathleen Atkinson OSB
February 28, 2020
Seven years ago, S. Kathleen Atkinson did something that she had often thought about doing but had never pursued. She picked up the phone, called the chaplain of the North Dakota State Penitentiary and asked if there was anything she could do as a volunteer at the prison. That phone call began a journey that has changed her life and set in motion Ministry on the Margins, a volunteer-based ecumenical ministry committed to supporting those who fall through the cracks during times of transition. Now serving over 800 people a week with an average of 90 weekly volunteers, Ministry on the Margins was formed by people who come together believing in miracles—that Jesus who once was dead is now alive and present among us. They believe that ordinary miracles happen.
Come hear S. Kathleen's story about Ministry on the Margins and how practical Benedictine values have led the way. Allow yourself to listen for your own unique desire to become a changemaker. Imagine what social engagement is possible within your own settings when you are tuned in to hope and resurrection.
This Public Presentation kicks off the weekend retreat, co-led by Rev. Zanne Ness, Everyday Prophets: How Small Acts of Courage and Compassion Change the World (Friday evening through Sunday, March 1 at 1p). Register Here for the entire weekend retreat.
Sr. Kathleen and Rev. Ness will also lead a one-day workshop on Thursday, Feb. 27 from 9a to 3p: Beyond Fear: Helping Communities Choose Welcome. Register here for the Thursday workshop.
Leader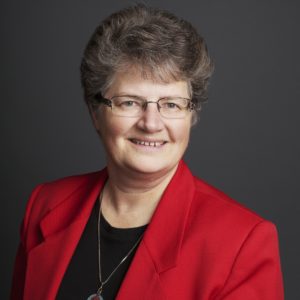 S. Kathleen Atkinson OSB
S. Kathleen Atkinson OSB is a Benedictine Sister from Annunciation Monastery in Bismarck, ND. Nationally recognized as an energetic and creative leader in hunger and homelessness education, she has developed service learning experiences for all age groups and led service teams to a variety of foreign and United States locations. Kathleen has been a teacher at the elementary, secondary, university level and has served as director of catechesis for the diocese of Bismarck. In 2013 she founded Ministry on the Margins, working with at risk youth, prison inmates, the homeless, and others who are God's poor among us. Ministry on the Margins currently serves over 800 people with 80-90 volunteers each week. Kathleen holds an MA in Theology from St John's University and a Doctorate in Ministry from the St Paul Seminary School of Divinity, University of St Thomas. She is the author of several articles on spirituality and mission as well as two books published by Liguori Press – God is Always There. Psalms for Every Moment,  and Letting Go and Letting God. 21 Centuries of Faith. 
Learn more about S. Kathleen Atkinson OSB