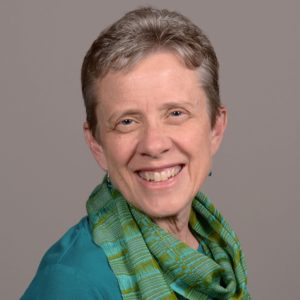 (Sheryl Rose is open to receiving new spiritual directees at this time.)
Sheryl Rose holds an MA in Organizational Leadership and Spirituality from St. Catherine University.  She was certified as a Labyrinth Facilitator at Grace Cathedral in San Francisco and was trained at the Franciscan Spirituality Center in La Crosse, WI as a Spiritual Director. Sheryl recently retired from parish ministry after over 25 years in the Archdiocese of St. Paul and Minneapolis.
Sheryl is available to journey with people via Zoom, inside her home in SW Richfield or at the Benedictine Center.  During the warmer months, she also offers spiritual direction in an outdoor setting, often using the sacred walking path of her backyard labyrinth for those seeking another way to integrate mind, body and spirit.
Sheryl writes:
Being a first born overly responsible type, I worked full time while raising two children and volunteering at our parish and in the community.  This life was managed by color coded calendars, sticky notes and to do lists posted all over the house and car.  I was either "On" or "Off" (asleep).  Sitting in church, I remember being indignant every time the Martha/Mary story came up in the Gospel reading because Mary was always hailed as the "good" sister, sitting at Jesus' feet and basking in His presence.  As the older, more "responsible" sister, Martha was running around getting food on the table and serving her guests, someone I could identify with more easily.
When my kids got older, I sought a master's degree in order to change career fields.  But after 4 ½ years of taking one course at a time, plus continuing to balance my work and family responsibilities, I still didn't know what I wanted to do with the rest of my life. Right about the same time I had also been diagnosed with fibromyalgia, a chronic pain and fatigue condition, adding another stressor to my overly full "responsible" life.
A friend suggested I try spiritual direction.  I was blessed with the wisdom figure I had been seeking all along without knowing it.  Over time, she helped get me out of my head and listen to my heart and the whisper of the Holy Spirit. My life's work and purpose began to emerge.  I began to see that my own story was what was important, not comparing myself to others.  I began to see how I could reframe some difficult moments in my past and turn them into learning experiences that allowed me to live my life more centered on God, to focus on the real me, and not the person people expected me to be according to the various roles I played in my life.  Each of the three spiritual directors that I have seen over the last thirteen years was the right person for me at the right time in my life.  Through them, God brought me to self-discovery in ways I couldn't possibly have reached on my own.
Focused time being with God allows me to be able to have the courage and energy to be generative in the world.  Over the last many years, I have come to understand that we are not what we "do" in life.  "Be Still and Know that I am God" (Psalm 46:10) has become my mantra.  God's constant presence in my life, at the center of my very "be-ing" is what grounds me every day and carries me into the world.
Whether you are in transition or wondering where God is in the midst of the chaotic world we live in, I invite you to consider meeting with a spiritual director.  Our role is to hold open the space and intentional time for the sacred to reveal its wisdom in your life.  We offer support for your ongoing spiritual journey through an invitation to share your authentic story through reflection on your own lived experiences.   It just takes an intention to "Be Still."