[mp_row] [mp_span col="12"]
Spiritual Direction | For the New and Experienced
Discernment
Transition
Loss
Renewal
A vague sense of wanting something more
Spiritual direction benefits include …
A non-judgmental environment for honest sharing about spiritual matters
Options for one-on-one or group sessions
An improved sense of how God is working in their everyday lives.
Events Related to Spiritual Direction
Open Dates
We are currently offering Spiritual Direction via telephone or web only.  The recommended donation for one-on-one spiritual direction is $75. Registration for this program is used primarily to log payments.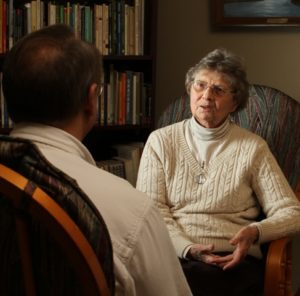 With Sheryl Rose and Tod Twist
January 26, 2022
No one can walk our spiritual journey for us. We enter, one by one, into the presence of the mystery of God and listen wholeheartedly to what God asks of us. But that journey need not be made alone. There are times when having a companion who listens to us and who helps us to listen to ourselves sharpens our ability to listen to the voice of God. This workshop offers those new to spiritual direction a place to start and those experienced with spiritual direction insight into making the most of each session. Please note: this event will take place online via Zoom.
The spiritual direction ministry of the Benedictine Center is made possible by a team of spiritual directors, as well as other faithful staff, volunteers, and partners. Click on the spiritual director names below to view their full bios.
Inquire Today
Explore your questions or request a free initial consultation.

Testimonials
"When I see all these people sharing their souls, I can't help but wonder what mine has to say."
Anonymous Patron
"Returning for the juried show each year helps me stay at my practice all year long."
Anonymous Artist
"It's so peaceful here. Even my body feels it when I walk through the door."
Wendy
"Wow. What can I say? I cannot thank you enough for the way that you helped me. This was a wonderful experience—one of a lifetime."
Jim
"I am moved every time I walk in these doors and encounter a new exhibit."
Mark
"I am an artist who just moved to town. I have found my people."
Jill
"We found the spiritual atmosphere, architecture and interaction with the community of St. Paul's Monastery as asset to our work . . . the Benedictine Center keeps our focus on the spiritual dimension of life as it unfolds."
Dr. Mel Kimble
"As a staff we were amazed at the quality of our experience together."
Fr. Chuck Brambilla
"God has breathed empowering courage into my life and ministry through times of silence in this beautiful center."
Pastor Ruth Conrad
"The Benedictine Center made our retreat with college students nothing less than spectacular. What we encountered was a true sense of Benedictine hospitality and prayerfulness."
Aaron Miller, Campus Minister
"I can't believe I slept for twelve hours straight. It must have been what my body needed."
Nancy
"Our time was peaceful and beautiful and blessed."
Dianne
"I've been in spiritual direction for a long time. I wouldn't be without it."
Carol
"My spiritual director helps me be me. I appreciate the way she encourages me as I sort through my relationship with God."
Alan
"Sometimes I come and have no idea what I'm going to talk about. I am amazed to see what surfaces every time."
Becky
"I'm not sure exactly why, but it just seemed like it was time to go on retreat."
Glen
"I have had just the right balance of solitude and community. What a blessing to be able to be apart without feeling alone on my journey."
Carolyn
"Thank you for the retreat. It was refreshing, renewing, restful, and helpful."
Dave
"The Center has been an immense contributor to my spiritual development . . . and I am on the path Home."
Linda
"My first time at the Benedictine Center was a most wonderful experience! It was a time of quiet, solitude, and peace. I am coming back!"
Stephen
[/mp_span] [/mp_row]